​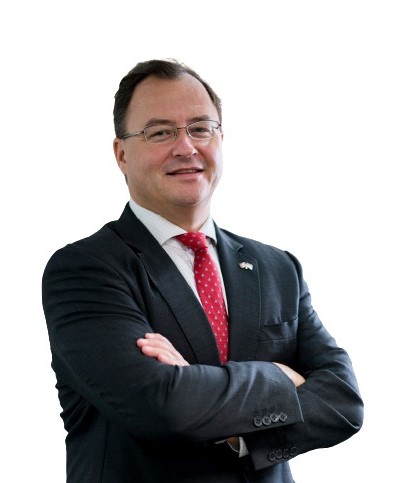 Dear members of SwissCham Indonesia,
I am tremendously excited to step into the Chairmanship of SwissCham Indonesia at such a period of meaningful global and domestic change.
In just a few short years, under the capable stewardship of our first Chairman, Bapak Luthfi Mardiansyah, along with a committed Board of Management and a supportive Embassy, the Chamber has became a valuable link between businesses with Swiss connections and the Governments of Switzerland and Indonesia. It contributes significantly to the dialogue by bringing institutions from diverse fields, sharing their experiences in a spirit of collaboration and mutual understanding.
SwissCham – guided by its mission: "To focus on promoting trade, investment and the development of relations between Swiss and Indonesian business communities through collaborative dialogue and advocacy, as well as through social and business networking events that are geared to support the needs of our corporate, small and medium-sized enterprises (SME) and individual members", has made a remarkable progress in short stead.
This is all happening at a time when Indonesia and Switzerland are in the process of ratifying a landmark Comprehensive Economic Partnership Agreement (CEPA) that will further strengthen the working relationship between these two great countries as they head into the 70th Anniversary of their formal relations in 2021.
In 2020, SwissCham Indonesia, successfully organised membership activities to deliver value to our mission, through topical public forum, advocacy meetings with government bodies, virtual webinars, virtual discussions, and the second successive Annual SwissCham Golf Tournament.  We have done this despite the challenging circumstances of the ongoing global pandemic that has fundamentally changed the way business conducts business. The key highlight to the year was the launch of our policy paper in February entitled "Advancing Indonesia 4.0: Opportunities to Enhance the Indonesia-Switzerland Economic Relationships in Trade, Investment and Development."
After a successful Annual General Meeting in August 2020, SwissCham changed its approach to engaging its members by recasting its objectives through the lenses of four Sectoral Groups each led by prominent business leaders in their respective fields. These groups are "Ease of doing business", "Fiscal, Custom & Excise", "Human Capital Development" and "Sustainability & Innovation".  The singular objective of this change is to drive greater members engagement and accountability in ensuring that we fulfil our mission and mandate to be a relevant and valuable catalyst to the success and advancement of our membership. We encourage our members to become involved and make a difference in these Sectoral Groups.
I am personally very appreciative for the tremendous ongoing support that we have received from H.E. Kurt Kunz, Ambassador of Switzerland to Indonesia, Timor-Leste and ASEAN, and his entire Swiss Mission team (including Swiss Business Hub, Economic Cooperation and Development (SECO), and Political, Economic and Cultural Section) and also to the Indonesian Ambassador to Switzerland, H.E. Prof. Muliaman Hadad.
I firmly believe with the excellent calibre of business leaders volunteering on our Board of Management, as well as the depth of businesses involved in our membership (68  companies and growing!), the strong financial position of our Chamber and the leadership of our Chamber Secretariat, we are well positioned to deliver on the mission that we have set out for ourselves three short years ago.
Hidup SwissCham Indonesia!
Sincerely,
Chris Bendl
Chairman of the Board of Management
---
Pesan dari Ketua
Kepada anggota-anggota SwissCham Indonesia yang terhormat,
Saya sangat senang menjadi Ketua SwissCham Indonesia pada periode perubahan global dan domestik yang berarti.
Hanya dalam beberapa tahun yang singkat, di bawah pengawasan yang mumpuni dari Ketua pertama kami, Bapak Luthfi Mardiansyah, bersama dengan Dewan Manajemen yang berkomitmen dan Kedutaan yang mendukung, Kamar Dagang ini telah menjadi penghubung yang berharga antara bisnis dengan koneksi Swiss dan Pemerintah Swiss dan Indonesia. Ini berkontribusi secara signifikan pada dialog dengan membawa institusi dari berbagai bidang, berbagi pengalaman mereka dalam semangat kolaborasi dan saling pengertian.
SwissCham - dipandu oleh misinya: "Fokus untuk mempromosikan perdagangan, investasi dan pengembangan hubungan antara komunitas bisnis Swiss dan Indonesia melalui dialog kolaboratif dan advokasi, serta melalui acara jejaring sosial dan bisnis yang diarahkan untuk mendukung kebutuhan perusahaan, usaha kecil dan menengah (UKM) dan anggota individu", telah membuat kemajuan luar biasa dalam waktu yang singkat.
Ini semua terjadi pada saat Indonesia dan Swiss sedang dalam proses meratifikasi Perjanjian Kemitraan Ekonomi Komprehensif (CEPA) yang penting yang akan semakin memperkuat hubungan kerja antara kedua negara besar ini dalam rangka memperingati 70 tahun hubungan formal mereka di Indonesia di tahun 2021.
Pada tahun 2020, SwissCham Indonesia, berhasil menyelenggarakan kegiatan untuk para anggota dan memberikan nilai bagi misi kami, melalui forum publik topikal, pertemuan advokasi dengan badan pemerintahan, webinar virtual, diskusi virtual, dan Turnamen Golf SwissCham Tahunan yang kedua. Kami tetap melakukan semua kegiatan ini meskipun situasi menantang dari pandemi global yang sedang berlangsung telah mengubah cara bisnis menjalankan bisnis secara mendasar. Sorotan utama tahun ini adalah peluncuran naskah kebijakan kami pada bulan Februari yang berjudul "Advancing Indonesia 4.0: Opportunities to Enhance the Indonesia-Switzerland Economic Relationships in Trade, Investment and Development."
Setelah Rapat Umum Tahunan yang sukses di bulan Agustus 2020, SwissCham mengubah pendekatannya untuk melibatkan anggotanya dengan menyusun kembali tujuannya melalui empat Grup Sektoral yang masing-masing dipimpin oleh pemimpin bisnis terkemuka di bidangnya masing-masing. Kelompok-kelompok ini adalah "Kemudahan Berbisnis", "Fiskal, Bea & Cukai", "Pengembangan Sumber Daya Manusia" dan "Keberlanjutan & Inovasi". Tujuan utama dari perubahan ini adalah untuk mendorong keterlibatan dan akuntabilitas anggota-anggota yang lebih tinggi dalam memastikan bahwa kami memenuhi misi dan mandat kami untuk menjadi katalisator yang relevan dan berharga bagi keberhasilan dan kemajuan keanggotaan kami. Kami mendorong anggota kami untuk terlibat dan membuat perbedaan dalam Grup Sektoral ini.
Saya secara pribadi sangat menghargai dukungan yang luar biasa yang kami terima dari Yang Mulia Kurt Kunz, Duta Besar Swiss untuk Indonesia, Timor-Leste dan ASEAN, dan seluruh tim Misi Swiss (termasuk Swiss Business Hub, Economic Cooperation and Development (SECO), dan Bagian Politik, Ekonomi dan Budaya) dan juga kepada Duta Besar Indonesia untuk Swiss, Yang Mulia Prof. Muliaman Hadad.
Saya sangat percaya dengan kualitas luar biasa dari para pemimpin bisnis yang menjadi sukarelawan di Dewan Manajemen kami, serta kedalaman bisnis yang terlibat dalam keanggotaan kami (68 perusahaan dan terus berkembang!), posisi keuangan yang kuat dari kamar dagang kami dan kepemimpinan Sekretariat kamar dagang, kami berada pada posisi yang tepat untuk melaksanakan misi yang telah kami tetapkan tiga tahun yang lalu.
Hidup SwissCham Indonesia!
Salam,
Chris Bendl
Ketua Dewan Manajemen
​