Clariant Indonesia Supplies Hospital with Oxygen in Fight Against Covid-19
10.08.2021 - Clariant Indonesia exemplified outstanding corporate social responsibility and strong community spirit by reaching out to a local hospital that was in dire need of oxygen as the number of COVID-19 patients admitted continued to rise in early July.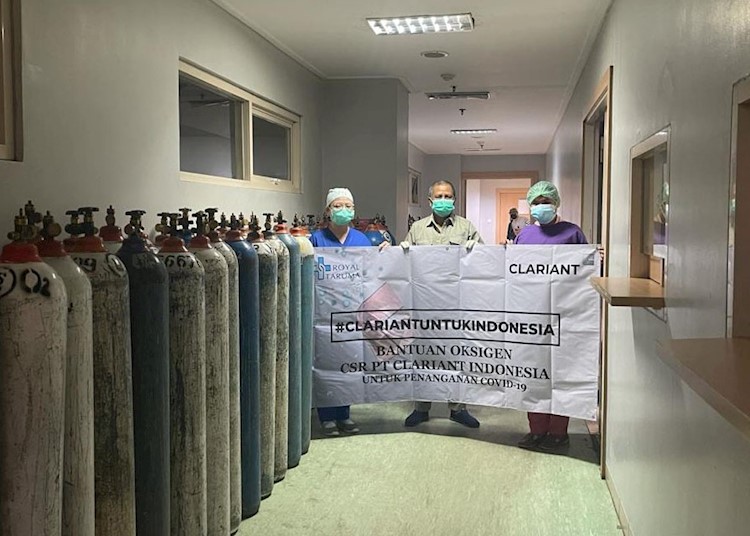 A total of 100 tanks of much needed oxygen were successfully secured by Clariant on 4 July to the hospital in the middle of an oxygen shortage that hit hospitals country-wide.The Royal Taruma Hospital that benefited from Clariant's CSR cause has been working with our Tangerang site to offer routine antigen tests for our site employees as part of the health protocols for COVID-19 prevention. It was made known to us during a coordination meeting with Clariant Indonesia on the antigen test on 3 July that the hospital was suffering so seriously from an oxygen shortage that it was near the point of collapse. Clariant Indonesia's management immediately reacted and contacted our nitrogen supplier on their oxygen availability and was able to secure the 100 tanks of oxygen for the hospital the next day.

"Clariant Indonesia and our Tangerang site in particular has been deeply rooted to the community in the past decades. The Royal Taruma Hospital has been offering us good support in our COVID-19 prevention by conducting the antigen test, so we're especially grateful that we're able to return the favour this time by helping them out with some urgent supply of oxygen," said Hans Herrel of Clariant Indonesia.
---------------------//------------------------
CLARIANT TANGERANG SITE STEPS UP TO FACILITATE COMMUNITY VACCINATION ROLLOUT
Medical personnel mobilized to help 1,000 community citizens receive their jabs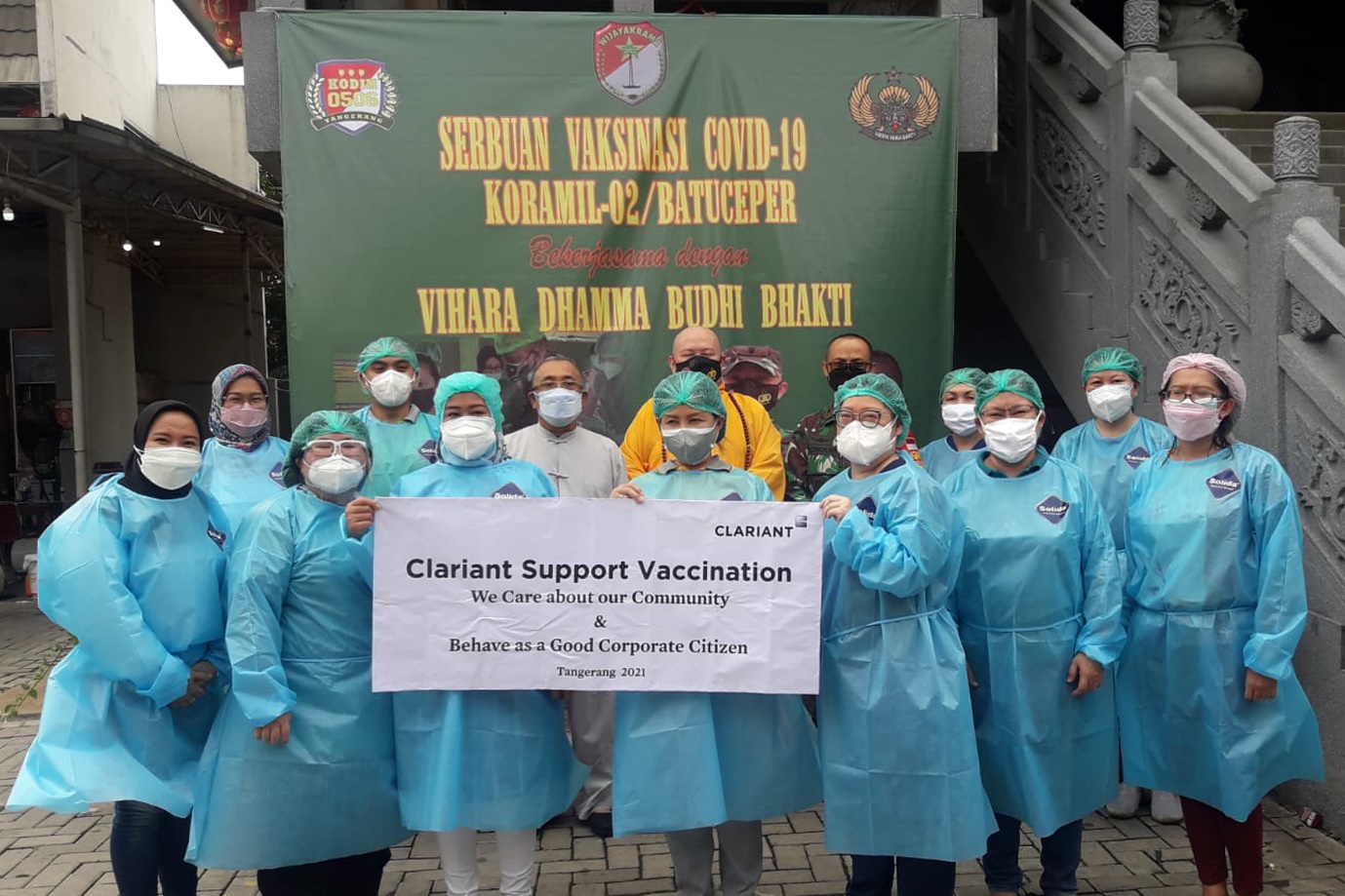 Clariant's Tangerang site in Indonesia, a long-established good corporate citizen in the local community, recently helped facilitate COVID vaccination rollout in the neighborhood. The resultant vaccination program was successfully carried out on 31 July – 2 August, leading to 1,000 community citizens vaccinated against COVID-19.
The 1,000 vaccines were granted by the government for those who do not have access to the internet or a smartphone application to get registered for vaccination. However, the lack of medical personnel qualified to conduct the vaccination threatened to keep the vaccines idle – until Clariant stepped in to help.
As soon as they were made aware of the situation, the Tangerang site management immediately sought help from Clariant's company doctor, who acted quickly to line up a number of qualified medical personnel to carry out the vaccination duty through her network.
"This is another example in which we demonstrated our ongoing support for the local community in Tangerang, which we really care about through a great community spirit that has been thriving for decades," said Hans Herrel, Clariant's Country Head of Indonesia. "Everyone at our site is really delighted to see those who needed the protection of the vaccines were able to get it from this program."
The vaccination program was carried out on 31 July – 2 August at temple Vihara Dhamma Budhi Bakti in Tangerang, with support of the local government and army. Clariant's ESHA team and General Affairs colleagues, as well as company doctor were also in attendance to facilitate the rollout of the program that led to a total of 1,000 local citizens receiving their vaccines.