Enabling Global Trade in a Fast-Growing Market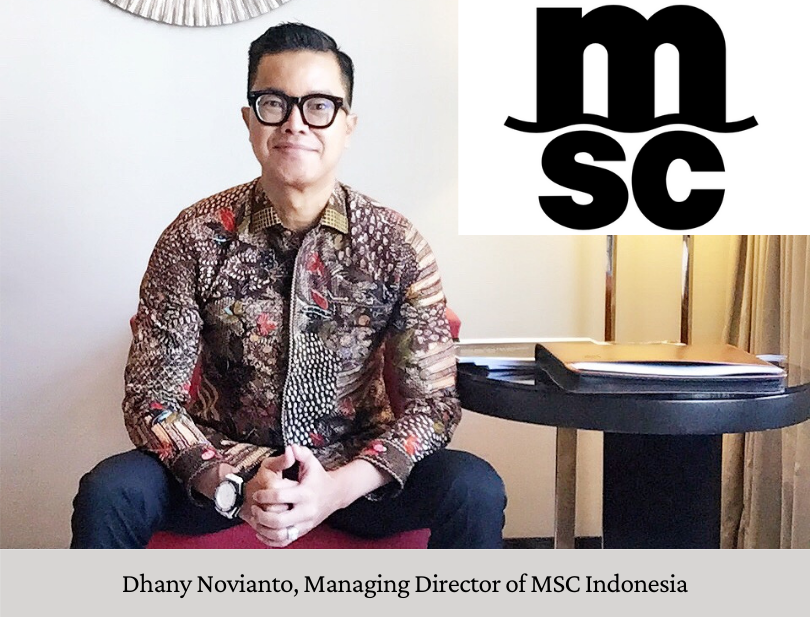 Enabling Global Trade in a Fast-Growing Market
Geneva-headquartered and family-owned MSC Mediterranean Shipping Company, the world's second largest container shipping company, is celebrating its 25th year of doing business in Indonesia. Dhany Novianto, Managing Director of MSC Indonesia, shares more about the company's business growth and priorities.
How has the shipping industry been impacted by the global pandemic?
The impact of the COVID-19 pandemic is truly unprecedented. When the pandemic broke out, the shipping sector was initially badly hit by a plunge in global demand, border closures and shortages of port workers and truck drivers. Like many other shipping companies, MSC had to cancel services on several routes.
In the second half of last year, in line with signs of recovery, the company added capacity and started new services to cater to market demand.  However demand shot up much faster than anyone expected and this has been compounded by further challenges in different parts of the supply chain.
How has MSC been helping Indonesia shippers in the face of market challenges? 
Globally, MSC has already started 8 new main line services in the past few months, deployed available vessel capacity and provided hundreds of thousands of additional containers to help respond to the huge demand for cargo transportation in an extremely challenging and congested market.
Locally, we are working closely with our customers and partners on enhanced forecasting and visibility of their volumes. We are also communicating in a timely manner with clients and keeping them informed on what happening in the market including which ports are heavily congested, and how we are operationally dealing with such issues.
How has MSC's business grown in Indonesia?
We take a personal approach in dealing with customers, which has been key for MSC in Indonesia to be able to grow fast and become one of the market leaders. Good local teamwork, with the support of our head office in Geneva, has also helped us to win the trust of our clients. They can count on us to find a solution for problems they encounter, for instance in terms of equipment shortage and freight availability.
Over the years, we have seen continued solid growth for our business operations in Indonesia and significant growth in our cargo volumes. 
Our headcount and office network has increased; we now have 180 staff in 6 offices: in Belawan, Palembang, Panjang, Jakarta, Semarang and Surabaya. These are all located near the main ports of Indonesia so we can be close to our customers. To further boost our business coverage, we are also represented by third-party agencies in Padang, Batam, Solo, Bandung, Makassar and Bali.
How important is Indonesia for MSC?
Being one of the major global shipping lines operating in Indonesia, we see many opportunities to grow our business further by offering additional services to customers. This includes the wider roll-out of intermodal services (specifically trucking and customs clearance) that had previously been offered on a limited basis. Our aim is to build a one-stop shop, catering to the transport and logistics needs of our customers.
Main exports for MSC include furniture, footwear and tyres but we see opportunities to ship more refrigerated cargo from Indonesia, and to provide intermodal services for cargo such as charcoal, to ensure they can be transported safely with our expertise.
MSC currently offers eight weekly shipping services connecting Indonesia ports with transshipment hub ports like Singapore, Tanjung Pelepas in Malaysia and Yantian in China. We have large mother vessels that call at these transshipment ports in Asia, providing seamless connection for the cargo to other regions such as US and Europe. 
How has the rising trend of digitalisation impacted MSC?
 The global pandemic has made it clear to us that we need to provide more digital channels for doing business with our customers. Recently in April 2021, we launched MSC Electronic Bill of Lading (eBL), where parties involved in a cargo shipment booking can manage the bill of lading electronically through a blockchain platform, in a quick and cost-efficient manner.
We have a global eBusiness portal, myMSC, launched in 2016, which is well-accepted by the market. We have been steadily increasing the features on this portal. Last year, we launched Instant Quote, which enables customers to quickly and easily get real-time shipping rates for container bookings in just a few seconds.
Digital solutions are highly essential as many of our customers are still working from home due to the ongoing pandemic. Digitalisation is the way forward and we will continue to explore more new online solutions and to push out new features on myMSC, so as to provide greater efficiency, transparency and more options for our customers.
Climate change is a hot topic, what's MSC's view on decarbonisation?
As a company, MSC is committed to move towards a zero carbon future. We are actively cutting carbon emissions by improving the way we operate our global fleet of ships, and are exploring the use of alternative fuels including hydrogen derived fuels, methanol as marine fuel and the significant potential benefits of progressing from fossil-based LNG to bio-LNG or synthetic variants. 
Our focus is on finding the pathway to develop new fuel and technology solutions that can be scaleable, and technically and economically viable.
MSC's efforts to decarbonise include strong partnerships with a range of companies across the industry. In addition to contributing to the work of industry groups and associations, MSC has recently entered into a partnership with Shell to catalyse low-carbon solutions for the shipping sector.
To find out more about how we are progressing on our sustainability journey, please check out our latest Sustainability Report at our website.
Fact box on MSC Mediterranean Shipping Company
570 vessels

215+ routes

500 ports of call

62 terminals

21.5 million TEU* carried annually

524 offices

155 countries

100,000 employees

*TEU: Twenty-foot equivalent unit, the size of a regular container