ISO 27001:2013 Certification - Integrity Indonesia's commitment to information security management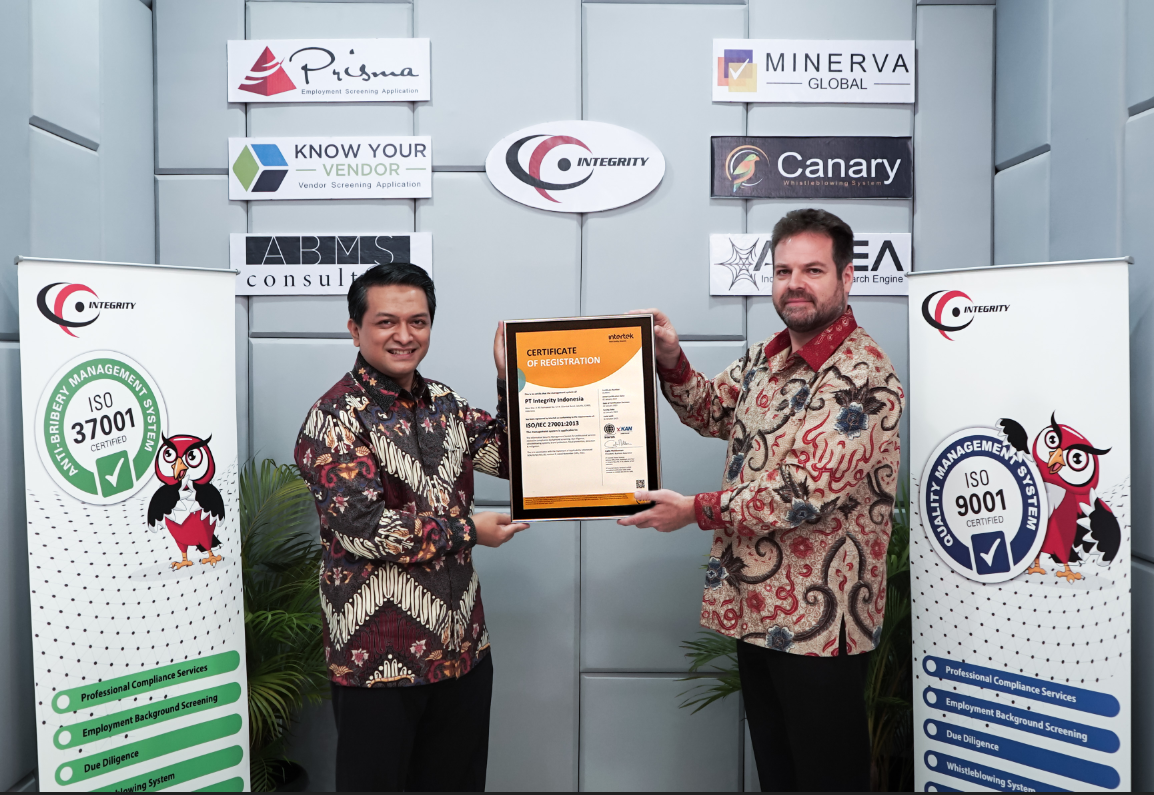 After an extensive audit by an independent and reputable certification company, PT Integrity Indonesia was awarded the ISO 27001:2013 accreditation. The certificate was officially handed out at PT Integrity Indonesia's offices, on Wednesday 18 January 2023.
This accreditation demonstrates PT Integrity Indonesia's dedication to data and information security management. The ISO 27001:2013 certification means that Information Security Standards have been applied in the provision of professional services related to compliance, employment background screening, due diligence, whistleblowing systems, brand protection, fraud prevention, as well as detection and mitigation.
"The implementation of ISO 27001:2013 is a form of PT Integrity Indonesia's commitment to managing company information security risks, including protecting the confidentiality of data entrusted by PT Integrity Indonesia's clients. This framework is critical for safeguarding data from the increasing hazards of security breaches in the digital world," said PT Integrity Indonesia's Managing Director, Edouard Helfand, in his remarks.
PT Integrity Indonesia has developed a number of compliance applications such as Canary Whistleblowing System and Prisma Employment Screening applications and as such abides by regulations issued by the Ministry of Communication and Informatics Regulation, laws on Electronic Systems and Transactions as well as the newly Data Protection Law issued on 20 September 2022.
Before this latest accreditation, PT Integrity Indonesia had previously enhanced its management by obtaining the ISO 9001:2015 Quality Management System and ISO 37001:2016 Anti-Bribery Management System certifications, providing its stakeholders with additional evidence of the trustworthiness and commitments of its team members.